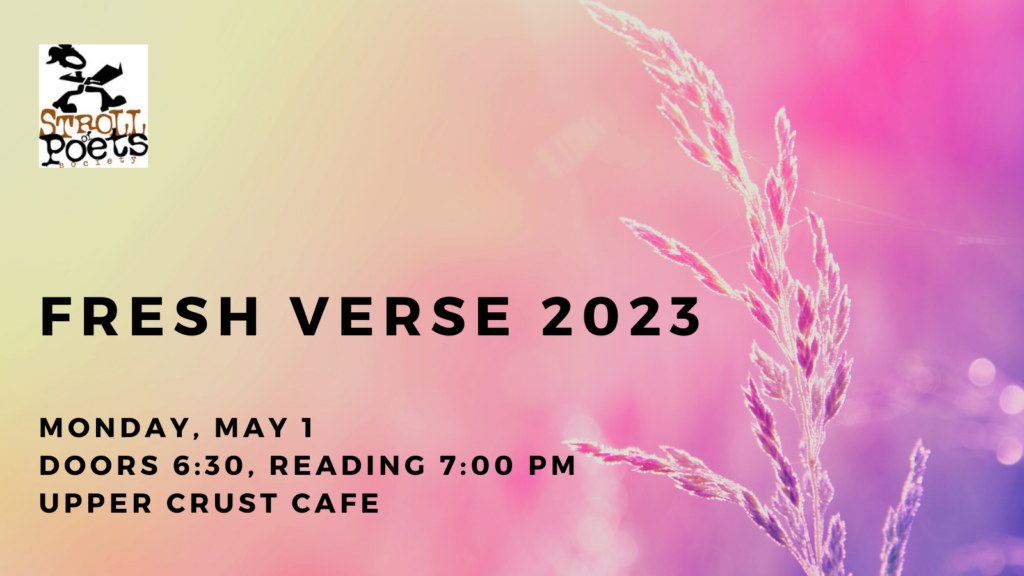 The Stroll of Poets is proud to offer another version of Fresh Verse at our Haven Reading series at The Upper Crust Café on May 1st, 2023.
Come out to see some new faces, hear some new voices, and appreciate fresh verses presented by four of Edmonton's emerging young poets, Tyler De Wacht, Grey Johnson, Paityn Reynolds and Jesse Piquette, as well as members of the Edmonton Spoken Word Youth Choir.
The Stroll of Poets is honoured to promote young voices in order to encourage youth to create poetry such as these powerful words borrowed and adapted from this 2013 poem by JBWELL3:
I Speak   I Write   I Live
     By JBWELL3
From the internal core of my youth I release a world of bright hope
From my hands, flowing streams of smooth syllables nourish barren souls
This is why I speak… I write… I live
Ancestral chains binding free spirits of orators and writers past
Who spoke hope with eagle soaring songs
While their sweat, tears, and blood reveal their personal stories
This is why I speak… I write… I live
While gasping breaths spoke of the future being just a whisper away
And silence being the empty pages for me and my generation
To write our story
This is why I speak… I write… I live
With our voice, we will emancipate the captive
With the pen, we will cut chains of history
With our lives, we will toil the earth…
Fighting through slashes of statistical whips
Breaking ropes of restricted inferiority
And project a roar of change…
And even if my voice should be reduced to a whisper or temporary silence
May the scars of my life, the blood sweat and tears of my heart.
Remain the legend we leave to the next generation
For when my voice and hands cease to speak… may my recorded legacy
Water the seed for new and better change upon the story of another
That will birth even greater change… For this reason
This is why I speak… I write…. I live.
We need say no more
Just $5 at the door
If you want to hear more…