"The proper response to a poem is another poem."
                                                                   ~ Phyllis Webb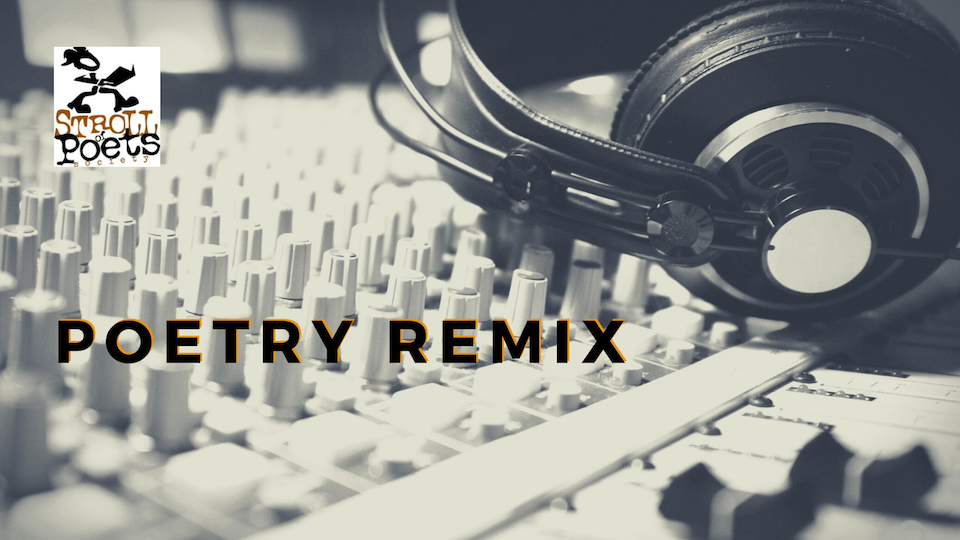 Let's look back—and make something new. The Stroll has published an annual anthology of poems for three decades. Thousands of poems, hundreds of voices. Poetry Remix challenges current and past members to find inspiration in those past poems and create a brand-new one for the 30th Anniversary season of the Stroll.
How to remix:
Crack open a past Stroll Anthology. (If you do not have a past anthology but would like to participate, please contact the email address below.)
Flip through the anthology until you find a line or two from another poet that inspires you.
Write your own poem using those lines as inspiration or a jumping-off point. You can use the lines as your first lines, as an epigraph, as a base for a glosa or an erasure poem…or anything else you come up with. Poems must be no longer than 60 lines and no wider than 85 characters (including spaces).
Send your poem to Kayleigh Cline at [poetryremix30@gmail.com]. With your poem, please be sure to include the lines, title, poet, and anthology year of the poem that inspired you.
Poems will be added throughout the 2021-2022 season, so come back to this page often to read the latest one!
Poems
Click on the individual tabs to read Remix Poems! First up is "Morning Again" by Don Perkins!
MORNING AGAIN
BY DON PERKINS
INSPIRED BY LINES FROM "Morning" (2016 Anthology) BY ELLEN KARTZ
line-ups grow in coffee shops people wait for buses shaking off sleep with a shiver turning dreams outward to an eastern sky
And as if the Creator's eyes reopen from the brief flick of another in an infinity of blinks, the predictable routine resumes: In a gathering stumble of starts and stops,
line-ups grow in coffee shops
out of mutual singular need or habit, collective affirmation of membership in a community of something – something – some continued beginning. Then in other companionable crushes,
people wait for buses
or collect in car pools or together take familiar walks to regular points of departure for familiar destinations, their personal somewheres, once more wading time's sourceless, endless river, once more
shaking off sleep with a shiver
of expectation that this dawning everyday will be the one unusual in their experience, will be the one unlike the others, the one with that cliché twist of fate -- each sip, each start and stop, each step, its own brave try
turning dreams outward to an eastern sky.