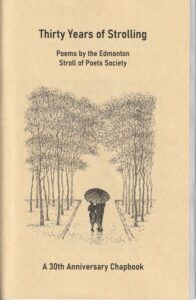 Exciting news! The day and location for the launch for the 30 Years of Strolling Chapbook has been finalized. Everyone is welcome to attend. Contributors to the chapbook are invited to read their piece at the launch. Please bring your own seating (camp chairs, picnic blanket, etc.). Please note that the bandshell does have stairs (about 5 steps) or a ramp, so footwear with a good grip is recommended.
Date:               Monday, June 27, 2022
Time:               6:30 pm to 7:30 pm
Location:        Alberta Legislature Grounds South
                         Bandshell (9515 Fortway Dr NW, Edmonton)
In the meantime, copies of the chapbook will be available to pick up as previously announced, along with The 2022 Stroll of Poets Anthology, on the scheduled distribution date of May 28th at the home of Deborah Lawson.