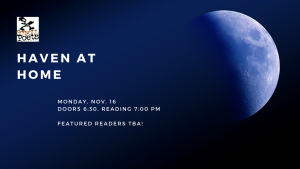 Stroll members! Now is the time we are open for 8-minute featured readers and mic hosts for our "Haven at Home" online reading series. You may sign up HERE

If you have any questions please contact us at: strollquestions@gmail.com

Our next "Haven at Home reading" night will be November 16th at 7pm,  doors open at 6:30pm. Please watch for Zoom link in next week's newsletter.